If you have been issued with store credit, you will have received an email from us notifying you of this. Please note that store credit can be used towards and purchase and the credit does not expire.
Viewing Store Credit
To view your store credit balance, login to your account and you will see it displayed under account information as seen in the example below.

Redeeming Store Credit
To redeem store credit, first add items to your cart as normal and then proceed to checkout, confirm addresses, and proceed to Payment Method. If store credit is available, you will see this as a tab above Credit Card and PayPal options.

Click on the toggle switch, enter the amount you wish to redeem (by default this will be the full amount available that can be applied towards the order) and click apply.

This amount will now be applied to your total, as shown below.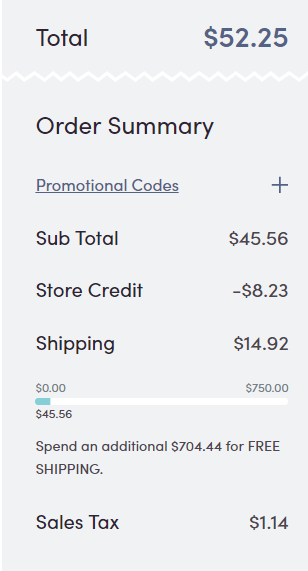 If still needed, select payment method to cover the remaining balance, and proceed as usual.
As always please contact us if you need any further assistance.